Even though it was his first 100-mile race- he made the history books for the top 5 fastest times ever over the distance. We caught up with Tom after his incredible run to find out more…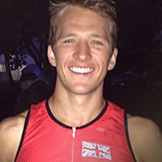 The custom insole adds to the structure of the shoe and gave me the support I needed for the 100-mile distance!"
Tom Evans – Ultra Runner & Profeet ambassador
What made you want to do the WS100?
Western States is the original 100-mile race, I love the history around the race and the iconic location. I wanted to challenge myself over the 100-mile distance and in one of the most competitive ultra-trail races.
What was your game plan attacking the course? How do you even comprehend planning running that far?
My coach (Allison Benton, AB Training Group) and I discussed race tactics at the start of race week. The plan was to start cautiously and build as the race progressed. I wanted to enjoy my first 100-mile race and I can happily say that I did.
I broke the race down, 4 x 25 miles… it still sounds pretty daunting, but it made it far more manageable and achievable. I had a great 8-week training block in Ethiopia which helped both physically and mentally.
What was the hardest moment on the course?
The canyons!! It started to heat up and there are two long climbs, one after the other, which can get tough… especially as its only 40 miles into the race!
How did the feet hold up, did your insole benefit you?
My feet give me very few problems, I have lost a couple of toe nails but that's about it! The insole adds to the structure of the shoe and gave me the support I needed for the 100-mile distance!
What shoes did you run in?
I was wearing a prototype Adidas Terrex Speed LD.
How long did you recover?
3 weeks till I was back doing 'sessions'
Week 1 – NOTHING
Week 2 – Cross Training on bike
Week 3 – Cross training + running
Week 4 – Reduced volume running with sessions
Any tips for anyone considering running 100miles?
DO IT!! Pick a race that is going to be achievable and, in a location, where you can see parts of the course, it's really helpful to know your way round the course and helps to keep you motivated!
Tom had custom insoles fitted in the profeet run lab. To find out how our insoles can benefit you call us on 020 7736 0046 or email info@profeet.co.uk
OUR SERVICE IS BY APPOINTMENT ONLY
Profeet's services are by appointment only, please call or book online in advance
Call 020 7736 0046