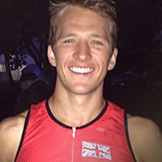 The Marathon des Sables is more than just a race, it's a journey of epic proportions. Known simply as the MdS, the race is a gruelling multi-stage adventure through a formidable landscape in one of the world's most inhospitable climates – the Sahara Desert. The rules require you to be self-sufficient, to carry with you on your back everything except water that you need to survive. You are given a place in a tent to sleep at night but any other equipment and food must be carried. I was lucky enough to race in 2017 and finished 3rd over all, this was a complete shock to me and the rest of the running community. After the MdS, my whole outlook changed and since then I have dived into professional ultra-running! With the 33rd edition of MdS approaching, I thought I should share my top tips for all of those lucky enough to be racing this year."
Tom Evans – Ultra Runner & Profeet ambassador
1: DEFINE WHY YOU'RE DOING IT – One of the hardest questions to answer. With a really strong reason to do the race, you are setting yourself up for success. When times get hard, you have something to drive you on.
2: SET ACHIEVABLE GOALS – What do you want to achieve from the race? Do you want to win? Beat one of your friends? Or just finish the race? Set three different goals so you have some focus during the race.
3: FAIL TO PREPARE, PREPARE TO FAIL – Leave nothing to chance. I like to 'control the controllables' make sure you have planned everything and left nothing to chance.
4: DO YOUR RESEARCH – There are so many different sources of information on the MdS, spend time getting to know the race construct and what you are going to put yourself through.
5: GET YOUR NUTRITION RIGHT – All calories are not the same. Don't become completely focussed on calories per gram! Make sure you're going to have enough food that you like and test it in your training. My treat was mini cheddars!
6: GET YOUR HYDRATION RIGHT – All of our bodies are different and our hydration strategies will be too. Spend time working out how much sodium you need to replace. If you're struggling with this, get in touch with Precision Hydration – they know their stuff and will get you on track!
7: ACCLIMATISE TO THE HEAT – The Sahara is going to be hot…. I mean REALLY hot! You don't have to break the bank to get some heat training done before the race. Use hot yoga, a sauna, running with an extra layer on to get your body as efficient as possible at cooing down.
8: FRIENDS AND FAMILY – The MdS requires lots of time and energy. Get your friends and family on board. They will help to motivate you when times are tough. Meeting friends for brunch on the weekend and running there was my go to!
9: TRAINING – The type of training you do should be specific to the race. If you're planning on walking the race, then incorporate walking into your training program. Little things like taking the stairs or getting off the tube a stop earlier all add up.
10: INJURY PREVENTION – You don't want to get to the start line injured or with a little niggle. It's so much better to arrive at the race slightly less fit but injury free. Be really careful and listen to your body during your training.
So, that's it! My top 10 tips to make you have an unforgettable journey through the desert. I will be back on the start line in 2019 and already can't wait! Best of luck to everyone racing!
You might also find our video on conditioning & training tips for ultra running useful
To book an appointment with one of our skilled shoe fitters, please call 020 7736 0046
OUR SERVICE IS BY APPOINTMENT ONLY
Profeet's services are by appointment only, please call or book online in advance
Call 020 7736 0046