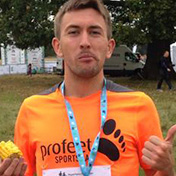 What really caught my attention though was the promise of a new wider toe box – hurrah!"
Pip Blackburn – Ultra Runner & Profeet ambassador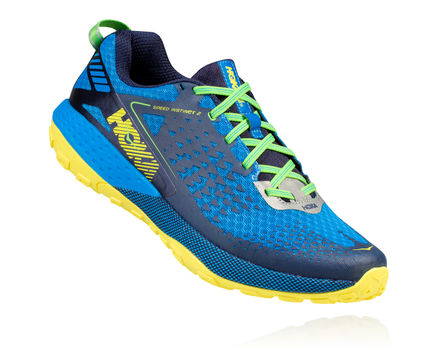 Stack Height
25mm heel, 22mm
forefoot, 3mm heel-toe offset
Weight
270g (men's size 9),
228g (women's size 8)
Hoka One One Speed Instinct Shoe Review
The Hoka One One Speed Instinct two echoes many of the benefits outlined by Paul in his review of the Tracer. Hoka have done an excellent job in creating a day-to-day shoe capable of racing over a variety and distances and terrain.
The original Speed Instinct set the bar high. I trained regularly in this shoe and also raced in the Alps and RTTK. It's cushioned, lightweight and caters for nearly all the running I do. What really caught my attention though was the promise of a new wider toe box – hurrah!
When Hoka initially ditched the rock plate in the Instinct, I was slightly concerned it may be slightly over responsive and uncomfortable on rockier terrain. However, the PRO2Lite™ cushioning copes well on the more technical stuff while making road transitions equally as smooth.
The minor improvements I hoped for in the Instinct 2 were breathability and wear. The new seamless air mesh upper has really helped improve the ventilation where previously, the shoe had felt quite hot.
Next was the wear, which was arguably the main issue with the first version. After 250 miles I have not noticed any stretching or tearing yet which is a relief given the upper in the first version really struggled to hold itself together after the first 100 miles. The outsole has expected wear but nothing which would compromise the ride or grip. The sole has stayed almost exactly the same, the multi-directional lugs still provide awesome grip on technical trails and descents but certainly perform better on drier terrain.
The improvements to the Instinct 2 have come at a minor cost. Personally, I like a shoe to lose weight as it evolves, However, the Instinct 2 weighs in around 270g, about 30g more than its predecessor. Quite frankly, it still feels exceptionally lively. Despite the weight increase, the slight tweaks have made a significant improvement.
I loved the last version and even more so the Speed Instinct 2. For somebody making a transition to Hoka, perhaps interested by the new wider toe box, I would recommend giving the shoe time to bed in. I found I actually needed to use a racing loop to really lock the shoe down at first but it quickly became an excellent all-rounder.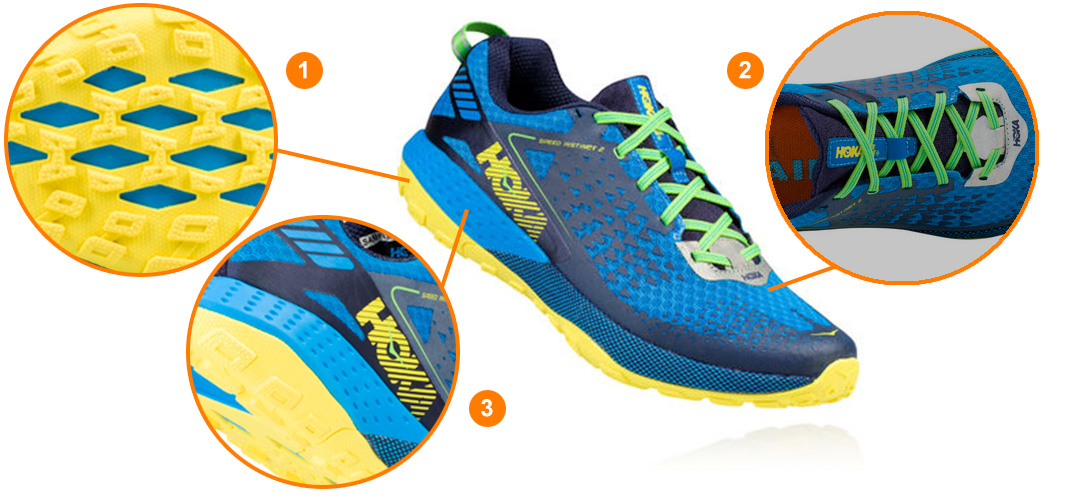 High abrasion rubber and multidirectional lugs to help with traction underfoot on rocky/wet surfaces.

Seamless Air Mesh to increase breathability. 3D Puff Print Frame is on the upper to offer light weight support around the foot. Padded Tongue for added comfort on instep. Reinforced Toe Cap for protection

Meta-Rocker-Geometry in the midsole is rockered to encourage propulsion off of the forefoot.
For more info and to test the Hoka One One Speed Instinct 2, please contact the Profeet Run Lab on 020 7736 0046.
OUR SERVICE IS BY APPOINTMENT ONLY
Profeet's services are by appointment only, please call or book online in advance
Call 020 7736 0046