Relative to five to ten years ago, there is a much wider choice of ski boots available on the market.  One of the most common questions we get at Profeet is whether customers should choose Alpine ski boots or touring ski boots.
How much downhill skiing v. uphill skinning/hiking will you do?
The key question to answer is how much downhill skiing you will be doing compared to skinning or hiking uphill.
The more uphill, the more important it is to save weight, as the heavier your equipment the harder you have to work. If you are doing more downhill skiing, then performance and control becomes more important.
The nature of ski boots is that there will always be a compromise between weight and performance.
Three main categories of ski boots
Broadly speaking there are three main categories of ski boots –
Alpine Ski Boots
Alpine ski boots have been designed to deliver optimum control and performance for downhill skiing.  They have a fixed spine at the back of the boot, so skinning and hiking will be tough as it naturally puts you into a ski position.  These boots work with any Alpine DIN binding.
Touring Ski Boots
Touring boots are all about saving weight and are made of lightweight plastics, buckles and liners.  The lighter the boots the more you compromise the performance.
They have a 'walk mode' in the spine of the boot which allows the cuff to be released for walking, giving a large range of motion.  Additionally, they have a rockered, rubber sole for better grip.
They are not compatible with Alpine bindings and can only be used with bindings designed to take a lugged sole.
Touring soles usually have Dynafit inserts in the toe and heel to allow you to be able to use a pin binding which is going to save even more weight when travelling uphill.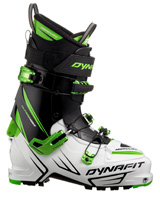 Hike 'n' Ride Ski Boots
Hike 'n' Ride boots have been designed to bridge the gap between Alpine boots and touring boots.
If you are a skier that is predominantly skiing downhill but wants the ability to hike/skin uphill on occasion, then these may be the boots for you.
These boots are built like a regular Alpine ski boot, but have a 'walk mode' in the back so that you can release the cuff. Often you can interchange the soles from Alpine to touring so they may work with both bindings.
The walk mode will have a smaller range of motion than a touring specific boot and will be a similar weight to an Alpine boot, but it is a good solution if you want that one boot for everything!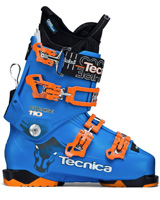 Ski Boot fitting at Profeet
At Profeet, we discuss all aspects of what a customer is looking for from their boots before a thorough examination of their foot and their biomechanics. It's only after this that we recommend appropriate ski boots for them.
The video below shows you what happens during a ski assessment at Profeet.  You can book an appointment by contacting us online or calling 020 7736 0046.
OUR SERVICE IS BY APPOINTMENT ONLY
Profeet's services are by appointment only, please call or book online in advance
Call 020 7736 0046