Profeet are delighted to be footwear supplier to Chloe Burles in her attempt to become the youngest Briton to walk the length of the Gobi Desert.
Chloe will be attempting to cross the Gobi Desert – a 1600 km journey – in May 2016 and is taking on the challenge to raise funds for WaterAid.
Her expedition will take up to two months, with her covering around 30km a day in her journey from Bulgan in Mongolia to Sainshad in the east.
We recently caught up with Chloe and asked her about her plans and her choice of footwear:
– Why did you approach Profeet?
When I was planning crossing the Gobi I did as much research into previous desert crossings as possible.
It was during this that I stumbled upon Alastair Humphreys' thousand mile expedition into The Empty Quarter. He had used Profeet and highly recommended them. As footwear was going to be exceptionally important I thought I'd better contact you.
– How important are fitted insoles to your attempt?
Extremely important!
When you take an action and repeat it over and over your weak points come under pressure. I was already prone to developing blisters with my previous non-custom footwear so this wasn't an option when walking 1000 miles across the Gobi.
Working with me on Profeet's 3-step process your run technician Arek was able to pinpoint where I placed the most pressure on my foot, and then make custom insoles to reduce the chance of blistering.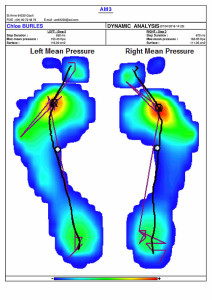 – How are you specifically preparing for your attempt? 
I've been doing a lot of walking!
The weather has been cold but sunny lately and there is a large park right next to where I live so I've been doing laps. It's hard to keep motivated, so I've also been setting myself small tasks such as walking to the local supermarket just for a single item, so it feels like I'm going somewhere with a purpose.
I've also been going for runs, spinning and swimming almost daily.
I was also lucky enough to meet Sir Ranulph Fiennes [who was also fitted by Profeet prior to his Marathon des Sables attempt] and ask him for advice.
– What will you be doing for nutrition?
I'm still finalising this side of things as a lot will be bought when I arrive in Mongolia.
I am aiming to start early in the day after porridge for breakfast, and take a long-ish break for lunch to take on as much food as possible and avoid the heat of the day, before continuing when it is a little cooler.
I am going to take some treats with me from the UK and try to be really strict as to when I am allowed them to try and create a reward-incentive based on distance covered.
I'm a vegetarian so I've been advised to keep an eye on the protein content I'm taking on board. I'll also be taking vitamin tablets to supplement my food as well as adding electrolytes to my water.
– Are you carrying a tent?  How much will your pack weigh?
The safety 4×4 (which will follow at a distance) will carry some of the equipment including the tent and water.
Ideally I would have used camels but can be quite temperamental – there's always the risk that they will run off into the desert with your essential equipment!
OUR SERVICE IS BY APPOINTMENT ONLY
Profeet's services are by appointment only, please call or book online in advance
Call 020 7736 0046