It's important for us to make sure our assessment skills, custom insoles and Profeet Approved Footwear are as good as they can be.
Our Ambassador Programme
To continuously road test our core ethos we support up-and-coming athletes with our biomechanical analysis, providing detailed insights into performance and potential issues, followed by custom made insoles and appropriate footwear. This benefits us by really putting our whole system through its paces: from our technicians to our software and equipment, to the choice of footwear in our stock room.
In turn, it benefits our ambassadors and gives them a helping hand along their path to excellence and medal-winning success. It's a win/win situation and we're truly proud to be involved with some of the UK's top elite athletes. Here's what just a few of 'Team Profeet' achieve this year…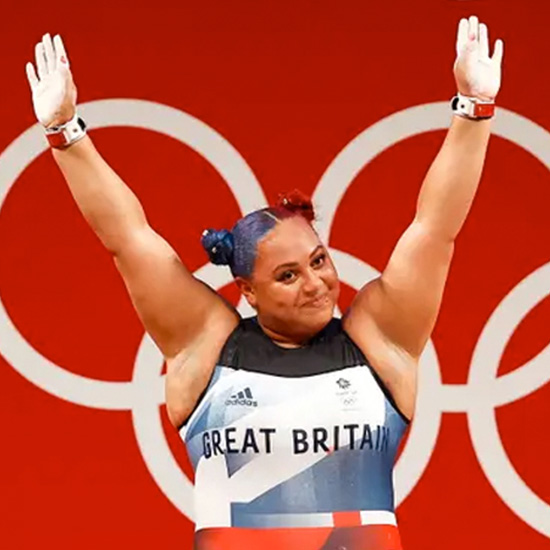 Emily Campbell won silver at the Olympic Games
It's been an epic year for Weightlifter Emily who having taken Gold in the European Championships, saw all her efforts pay off with a coveted Olympic Silver medal in Tokyo, followed by Silver in the IWF World Championships to make her the 3rd ranking weightlifter in the World – not to mention a nomination for BT Sports Action Woman of the Year.
Well done Emily, we're pleased to have contributed in some small part to your success and are excited to see where next year will take you.
Sarah Davies won Silver at the IWF World Championships
A stellar year for Sarah who got off to a great start with 3 silver medals at the European Championships. She put up a great show at the Tokyo Olympics but just missed out on a medal finally finishing in 5th place. Not to be deterred she ended the year with another smash scoring a silver medal at the IWF World Championships. Great work and we look forward to following you next year.
Emily Godley won double Gold at the European Championships
Despite personal challenges, Emily stepped up to take a silver medal and 2 golds at the European Championships, a stunning result. She went on to compete at the Tokyo Olympics increasing her weight band from 71kg to 76kg in order to qualify, a significant challenge in itself. She achieved 7th position and took home some lifelong memories. She has now chosen to retire from weightlifting and concentrate on coaching. We wish her all the best – she'll always be warmly welcomed at Profeet.
Pierre Meslet smashed the Marathon Des Sables
Nimble-as-a-mountain-goat osteopath and quietly elite athlete, Pierre, racked up a succession of race PBs on his training path to compete in the behemoth and lifetime ambition that is the Marathon Des Sables. Despite some of the most challenging and hottest ever conditions he made it look like a walk in the park, crossing the line in an overall 9th position. Absolutely remarkable! We look forward to hearing more about Pierre's MDS experience in due course.
Iain Martin nailed the UTMB achieving a lifetime goal
Veteran runner and regular Profeet cohort, Iain, turned in spectacular form with a year of Ultras, Duathlons and Triathlons culminating in a lifetime goal to conquer the Ultra Trail du Mont Blanc. We followed Iain's journey in detail this year and you can read all about it here.
Natalie Lawrence won the Ironman 70.3 Egypt
Former GB triathlete and busy Mum, Natalie kicked off a year of competitions with a neat win in the Race to The Stones Day 1 event. She made light of the London Marathon finishing in 3:00:38 (without really trying) and ran away with 2nd place in The Roc Triathlon Wales. She topped it off with a brilliant win, bringing home 1st place in the Ironman 70.3 Egypt. Always lighthearted and good humoured, we look forward to following Natalie's adventures in 2022.
Tin-Tin Ho competed around the World
Young medical student and elite table tennis player, Tin-Tin Ho, found herself at the forefront of the England Table Tennis team, playing both singles and doubles at Championships around the World culminating in a place at the Tokyo Olympics. Though she frequently made it into the quarter and semi-finals, competition was tough and she didn't quite get to bag a medal this time. 2021 has provided a shed load of experience and action for multi-talented Tin-Tin.
Who knows what 2022 will bring!
And there's more…
Our ambassadors compete at top level in all kinds of sports.
Jess Tappin
This year has been action packed for 400m Hurdler Jess Tappin who earned a gold medal at the National Athletics League.
Jess Robinson
Pole vaulter Jess Robinson has been busy competing with an eye on the Paris 2024 Olympics.
Alexa Palmer
Alexa Palmer and Global Super Nova participated in events across the country winning 3 disciplines at the PetPlan Summer Area Festival.
Catherine Ledesma
Meanwhile, Catherine Ledesma enjoyed a dream start to her international hockey career with the England Team.
Robbie Britton
And finally, Robbie Britton swapped his running shoes for a bicycle and competed in the bonkers Two Volcano Sprint. He rounded up 2021 by publishing an excellent book – 1001 Running Tips – bag yourself a copy in our shop.
You can find out more about our Ambassadors here
OUR SERVICE IS BY APPOINTMENT ONLY
Profeet's services are by appointment only, please call or book online in advance
Call 020 7736 0046